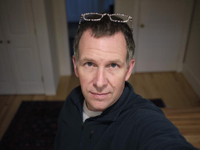 Michael Kolster
Michael Kolster
is a photographer, Professor of Art at Bowdoin College, and a 2013 John Simon Guggenheim Memorial Foundation Fellow in Photography. His photographs are in numerous collections, including the American University of Paris, Princeton University, Brown University, Center for Creative Photography, George Eastman Museum, High Museum of Art, Museum of Contemporary Photography, Smith College Museum of Art, and Williams College Museum of Art.
He has exhibited nationally and internationally, including solo exhibitions at the American University of Paris, Schroeder Romero and Shredder in New York City, SRO Gallery at Texas Tech University, Page Bond Gallery in Richmond, Virginia, and the Telfair Museums in Savannah, Georgia, among others.
Kolster holds a BA in American studies at Williams College, an MFA at the Massachusetts College of Art, and a certificate from the full-time Documentary Photography program at the International Center of Photography in New York City.
PARIS PARK PHOTOGRAPHS
(George F. Thompson Publishing, 2022), Kolster's third book, explores the parks Eugène Atget (1857-1927) photographed a century ago while its design offers an homage to the landmark catalogue
Walker Evans: American Photographs
(MOMA, 1938).
Take Me To The River
(GFT, 2016) was nominated for the Aperture First Book Award. His second book,
L.A. River
(GFT, 2019) explores the ongoing channelization of the river running through America's second-largest city.
Kolster lives in Brunswick, Maine, with his wife, Christy Shake, son, Calvin, and Smellie, their goldendoodle.